Three years ago I was fortunate to be treated at the famous Christy Hospital in Manchester for Stage 2 and Stage 3 melanoma, the deadliest form of skin cancer. The Stage 3 on my abdomen was millimetres away from entering my lungs and brain. Fortunately the skilled treatment was entirely successful and apart from lifelong checkups I am so far in the clear. At my last checkup the consultant was discussing my work and he suggested as payback for my treatment I should do a picture to be displayed in the IPU unit where I was treated. I haven't done a beach scene for a while, but it seemed to me the kind of thing that would be peaceful and calming for patients as they wait for treatment. So here goes, yet another beach scene, small recompense for the gift of life, but hopefully with the desired effect.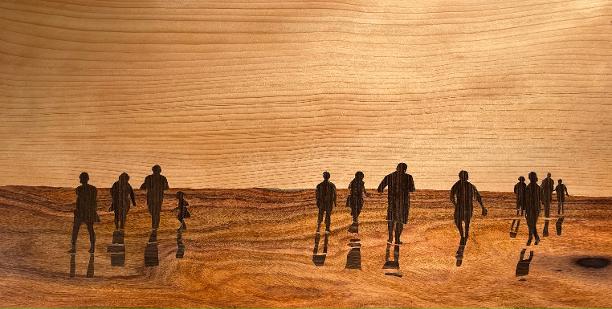 I have lost track of the number of chess boards I have been asked to do since the luxury one you can see above - too many to include here! However this one - a practice board for an existing client - is a bit different. She wanted a contemporary look with louder colours so I was happy to oblige with this red and black squared piece.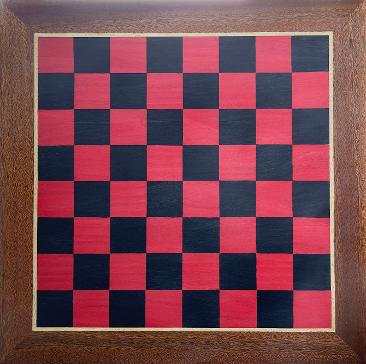 You never know what commission is just round the corner and this one is no exception! I was asked to do a mezuzah case for a synagogue in Prestwich, Manchester. A mezuzah is a parchment inscribed with religious texts and attached in a case to the doorpost of a Jewish house or synagogue as a sign of faith.  There is a groove in the back of the case to house the scroll and a hole through the case for people to see the Hebrew letter 'Shin'. The case is then fixed to a doorpost. I was delighted to do this commission as Prestwich is quite near to Cheetham Hill where I spent a lot of my childhood, in a predominantly Jewish street and when times were had for my Nan and our family we were always well cared for by our neighbours. Thank you in particular to Mrs Meisel and Mrs Berger who made the best chicken soup! The picture below shows the front of the case that everyone sees, the groove on the back, and the tricky job of lining up all the colours and stripes on the sides.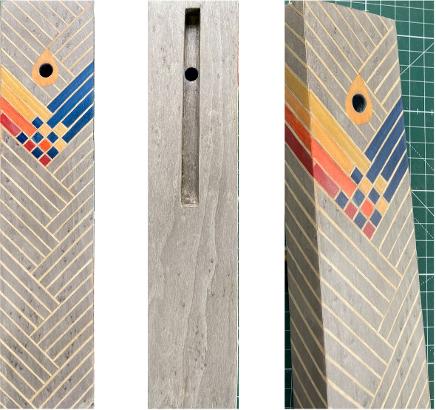 Back in June I did a day workshop in Accrington for the PROSPECTS Foundation, a community owned environmental charity which supports community action for the environment. The day was an amazing success, enthusiastically attended by the wonderfully diverse group of Accrington residents and beyond. My own contribution was to show some pictures and also to create a sign for future Prospect activities, ably assisted by anyone who wanted to contribute to its creation. (I seem to be doing a few signs lately – for indoor or outdoor use - so if you want one doing just let me know!). Here is the finished product and thanks to all who contributed!